| | |
| --- | --- |
| | Coordinated Motion and Velocity Profile Measurements |
---
In this example, SensorPlot™ was used to monitor the angular position of a photo-resist dispense arm and the voltage on an actuator as the dispense arm moved across a rotating semiconductor wafer. The velocity of the arm was also measured to verify the accuracy of the velocity profile.
To verify that the dispense actuator was being engaged at the appropriate arm angle, the voltage driving the actuator was measured synchronously with the position and velocity measurements of the arm. Below is a summary of the application parameters.

Between 0° and 25°, the velocity of the arm was programmed to move at 5°/Sec.
Between 25° and 55° the velocity of the arm followed a profile that started a 1°/Sec and increased to 7°/Sec as the arm approached the center of the disk.
A dispense actuator was energized between 27.5° and 52.5°.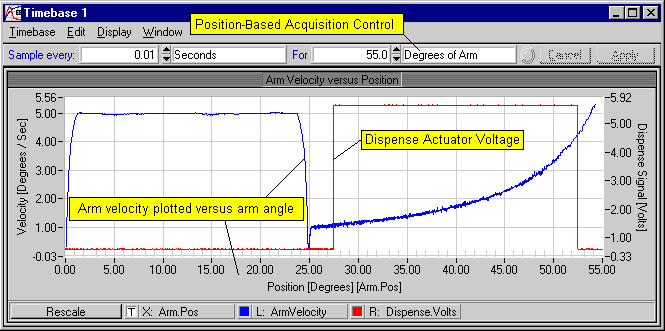 Comments

The time it took the arm to move from 0° to 55° depended upon the velocity of the arm. To avoid having to repeatedly change the acquisition settings as different arm velocities were being tested, the customer set the SensorPlot™ to sample every 10mS for 55° of arm. Basing the length of the acquisition on position allowed the customer to move the arm at different velocities and still maintain an acquisition that covered the full 55° of motion.
As indicated by the graph, data was plotted versus position instead of time. Plotting the data versus position as data was being acquired provided a real-time indication of the motion of the arm. Also, it allowed the customer to see if the actuator was being engaged and disengaged at the appropriate arm positions (not times!).
The analog measurement (the actuator voltage) was sampled simultaneously with measurements of position and velocity. Subsequently, the actuator turn on/off time was time and position correlated.

---
Euclid Research · 2 North 1st Street, 6th Floor · San Jose, CA 95113-1201
Tel: (408) 283-9020 · Fax: (408) 283-9029